In today's world of digital advancement, mankind has come up with new and efficient ways to save time and accomplish tasks without overextending ourselves. We call these solutions life hacks. Think of marketing automation as a hack designed to simplify your marketing operations, replacing manual and repetitive actions to achieve operational efficiency, above all accelerating revenue growth for your business
A marketing automation platform(MAP) can enable you to keep track of every visitor's actions on your website, blogs, landing pages, etc. i.e The way they engage with your emails, Ads, Forms, CTAs, visitor frequency, location, source of channels and many more. Based on these triggers, you can set up automated workflows to deliver them the right message at the right time. Such contextual engagements drive them faster through the buyer's journey. As one can't do it manually, without automation the opportunities that you drive to your website/blogs/landing pages, which is worth your time, money, and effort will be lost.
A study conducted by Harvard Business Review found that leads are 60x more likely to be qualified when businesses follow up within an hour, compared to when they take 24 hours or longer. Regardless of the day or time, with automation, you can track and engage your prospects from the moment they make contact with your brand.
What is Marketing Automation for?
The whole point of marketing automation is to simplify certain marketing activities, reducing the pain points associated with doing them to make it highly effective and efficient at scale. It uses technology to provide a more satisfying customer experience by automating tasks like:
Identifying, tracking, and engaging potential buyers online

Integrating marketing campaigns across multiple channels

Segmentation of leads based on smart rules

Personalizing content to suit each prospect depending on their stage in the buyer's journey

Personalized email campaigns

Automating lead nurturing

Automating workflows based on triggers

Tracking and analyzing the ROI of your marketing efforts and so more.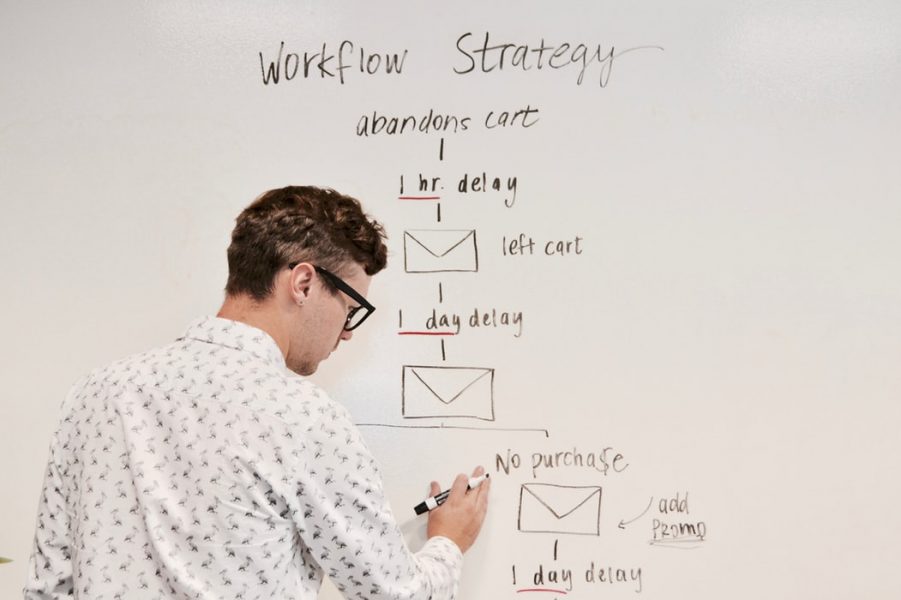 If you're a business owner or B2B marketer, you know how complex it is to efficiently perform these actions. Chances are you will either be falling behind at one or more of these or will be left with very little time to focus on more important things that need your attention.
Depending on the size and nature of your business, there are several software solutions to choose from when it comes to optimizing your marketing operations. Platforms like Eloqua, Pardot, Act-On, Adobe Campaigns, Hubspot, and Marketo are some of the best-trusted marketing automation tools.
Why is Marketing Automation Important?
If you're yet in doubt, here are some key ways in which marketing automation can positively impact your business in 2020.
Huge savings on time and overhead costs.
Marketing automation reduces the amount of monotonous and repetitive tasks that your team has to carry out.
On average, your business can save 6 hours a week by simply automating social media posts and advertisements. Using an automated tool for setting and managing client appointments saves 80% of your time.
It also improves your response time, increases customer engagement by 68%. You no longer have to spend precious hours each day setting up your social media posts or email campaigns. With the extra time on your hands, you can focus on the marketing strategies that require direct effort.
Thanks to automation software you can now grow your customer base or scale up your marketing efforts without worrying about increasing the size of your team to handle the uptick in responsibilities. You can successfully compete with businesses that have dozens of marketing personnel by using automated campaigns to capture and nurture promising leads to conversion.
Gives a bird's-eye view of your marketing efforts
With the aid of a marketing automation tool such as Hubspot, you can gain access to critical KPI and other metrics. Through this, you know what works and what doesn't. You can stay ahead of your marketing activities and make adjustments in real-time based on data.
Data gathering and analysis is the backbone of marketing automation. Suppose you have enough website visitors, and only a few are proceeding to the next stage. You can look at the data in your marketing automation platform and figure out what's wrong. Gone are those days when marketers had to throw solutions blindly at the wall, hoping one solves the problem. With automation, you can monitor feedback loops for different campaigns: click-through rates, open rates, activities on your website, response rates, unsubscribes, conversation rate, etc. to accurately pinpoint which specific marketing initiative led to each outcome.
Consistent brand image and experience
Unlike an employee, marketing automation does not have bad days, It never falls ill, takes time off or underperforms for any reason. It's always ready to deliver your brand's message with a practically nonexistent error margin.
For instance, when someone subscribes to your blog, you can send them an email welcoming them and suggesting articles they should check out. Every content or message you send out can be perfectly timed and imprinted with your brand image and values.
Increased productivity and creativity
Few things drain the creative juices out of people like doing manual repetitive tasks day in and day out. They'll feel less encouraged to explore new ideas and opportunities so as to not add to the backlog of pending work.
When you substitute these tasks with automated systems, it frees up time for your marketing team to pursue more innovative work. The productivity baseline will go up because they can do a lot more with the time and resources on their hands. Your team is more likely to show up energized and excited about the day's activities instead of loathing every hour of the job.
Personalized marketing communications on a scale
There's a common misconception that marketing automation makes communication impersonal and spammy. Automation only helps you to personalize communications at scale. It helps you create custom content that is tailored specifically to each customer or prospect.
The moment a prospect interacts with your company, MAP tracks all their actions and engages them with contextual content. For example, with automation software like Hubspot, even when you generate plenty of leads, you can still send targeted, personalized messages to each of them based on the contact properties or the lead cycle stage. And you don't have to manage any of them manually.
Also, personalized communication increases the likelihood of a recipient engaging with it, leading to a higher conversion rate.
Increased inflow of revenue
After adopting marketing automation, businesses usually experience between 20-50% increase in revenue. Marketing automation systems can accurately predict the sales-ready leads which the sales team gets to convert.
When processes like up-sells, follow-ups, and cross-sells are automated, it typically increases the lifetime value of customers. As much as 44% of businesses that use marketing automation see ROI within the first 6 months, and 75% within 12 months.
Benefits of Marketing Automation for a B2B Marketing Team
Streamlined marketing processes
One of the things you gain from using marketing automation software like Hubspot is a defined marketing process. A marketing process shows how you capture and nurture leads through different stages of the buyer journey until they get to the end of your sales funnel. Companies that have developed standard marketing processes enjoy an 18% growth in revenue in contrast to companies without one.
If your marketing efforts fail to yield desired results, taking a look at the processes will help you analyze the quality of nurturing and qualifying leads. Once the marketing process is perfectly optimized, your B2B marketing team can expect to see a sustained increase in sales.
Identification and targeting of promising leads across multiple channels
Using a one-stop automated system like Hubspot allows you to easily attract prospective customers who align with your buyer persona, get in touch with them at the right times, nurture them, and move them further down your sales pipeline with ease.
There are probably many leads in your pipeline that have gone cold but still take space for no good reason. Marketing automation helps you identify and purge bad/inactive leads. For example, you can set up rules to remove leads that haven't opened your emails for over three months.
With marketing automation, B2B marketing teams would be informed of the leads that are worth pursuing, reducing time and resource wastage that could be better allocated.
Blocking leakage in your pipeline
Ever notice good leads falling out of your pipeline? With marketing automation, the B2B marketing team can easily identify the holes in your pipeline and plug them. Also, you can add lost leads or the ones that have gone cold back to an active pipeline by sending targeted content that speaks to their needs, reigniting their interest in your product or service.
It has never been this easy to grade and qualify leads. Using the lead scoring feature, you can calculate the likelihood of a lead becoming a sale, and use it to take the next step. Consequently, when a lead reaches a critical score, marketing can automatically pass it on to sales. By paying attention to the data and acting on it, the team can prevent warm leads from leaking out.
Boosting customer retention and relationship
The goal of any B2B marketer is to acquire new customers and create a loyal base of brand enthusiasts. Simply improving your customer retention rate by 5% promises a 20% increase in profits.
With that in mind, using automated process workflows can help re-engage and reconnect with your customers. Even if they lack interest in buying something right away, it keeps them connected and invested in your brand during periods of inactivity.
Better conversion rate
Many B2B marketers who have adopted marketing automation reported increased revenue generation and reduced conversion time. Automation accelerates the sales cycle, drastically cutting down the time taken by a lead to move from the entrance to the exit of your pipeline. By optimizing your sales process, it gives a tremendous boost to the overall health and speed of your pipeline. Also, this time and effort saved will again lead to increased productivity and business growth.
Conclusion
Marketing automation is here to stay and has proven to be a prudent choice for B2B marketers and business owners everywhere. Regardless of the size of your company, you're sure to benefit from integrating marketing automation platforms like Hubspot into your marketing strategy.
There is an endless list of tasks that can be automated to improve the efficiency and growth of your business in 2020. Concentrating on the bigger picture, leaving the tedious, repetitive tasks to technology helps pave the way for better opportunities and growth.